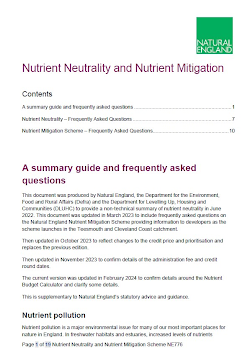 This document was produced by Natural England, the UK Department for the Environment, Food and Rural Affairs (Defra) and the UK Department for Levelling Up, Housing and Communities (DLUHC) to provide a non-technical summary of nutrient neutrality June 2022. This document was updated in March 2023 to include frequently asked questions on the Natural England Nutrient Mitigation Scheme providing information to developers as the scheme launches in the Teesmouth and Cleveland Coast catchment.
The current version was updated in November 2023 to confirm details of the administration fee and credit round dates.
This is supplementary to Natural England's statutory advice and guidance.