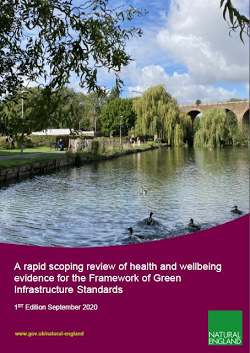 Natural England commissioned this report to inform the development of the National Framework of Green Infrastructure Standards, a commitment in the Government's 25 Year Environment Plan, which Natural England is leading to green our towns and cities for health and wellbeing, nature, climate resilience and prosperity, in particular for disadvantaged urban populations.
Natural England commissions a range of reports from external contractors to provide evidence and advice to assist us in delivering our duties.
The views in this report are those of the authors and do not necessarily represent those of Natural England.
Natural England is delivering this commitment with funding and support from the Department for Environment, Food, and Rural Affairs, Public Health England and the Ministry of Housing, Communities and Local Government.
Natural England and Public Health England have collaborated on this publication.
A surge in people visiting parks, beaches and naturereserves during the past few months of the coronavirus(Covid 19) pandemic has underlined the importance of green infrastructure for health and wellbeing. Our People and Nature survey showed that in May, during lockdown, eight out of 10 adults agreed that "being in nature makes me very happy". In addition, 41 per cent reported that visiting local green and natural spaces had been even more important to their wellbeing.
These green spaces have played a vital role in offering people under lockdownopportunities for exercise, fresh air, contact with nature, and play and relaxation.
They have been especially important for people living in the one in eight homes that do not have a garden. Covid 19 has also highlighted the inequalities that exist in people's access to private gardens and to parks and green spaces.
This review of evidence for the health and wellbeing benefits of green infrastructure sets out the sizeable body of research that underlines the importance of creating more, bigger, better and joined-up green spaces, especially near to where people live, and to address inequalities. It also identifies the beneficial role of social interventions such as media campaigns to increase awareness of green spaces, or holding community events in a natural environment. Finally, it reviews the wider health and wellbeing role of green infrastructure, for example in nature recovery, addressing climate change and mitigating noise and air pollution.
This evidence review was achieved through collaborating with experts across public bodies to drive policies for public health benefits. It will inform the emerging Framework of Green Infrastructure Standards being led by Natural England, which aims to help stakeholders enhance the nation's green infrastructure provision so that it can play a vital role in the nation's green recovery from Covid-19. Nature needs to move to front and centre in how we plan for the future of our country at this pivotal moment.