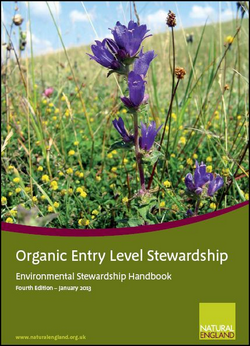 The fourth edition of the Environmental Stewardship Handbook for Organic Entry Level Stewardship (OELS), contains new options and updates aimed at improving environmental outcomes which come into effect from the 1st January 2013.
IMPORTANT:
1. You must follow the modified terms and conditions that come into effect on 1 January 2023. See the 2022 addendum that tells you what's changed (published on GOV.UK).
2. Please ensure the handbook is read in conjunction with the document NE381 (under 'Downloads available for this record' below) for details of changes since publication. Due to the size of the document this is also provided in sections to ease downloading.
A paper copy of this handbook can be ordered from your local office. For details see Environmental Stewardship contacts.
Go to the GOV.UK website for earlier versions of the OELS handbook and related publications.