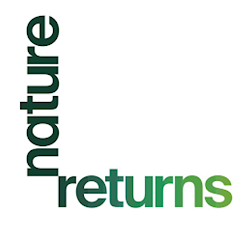 Natural England are leading Nature Returns, a £12.5m Shared Outcomes Funded programme. Working in close partnership with the Environment Agency, RBG Kew at Wakehurst and the Forestry Commission, the Programme is building evidence for the contributions of nature-based solutions in mitigating for climate change impacts at the landscape scale and sustainable funding approaches. 
This page will host the outputs from the Programme either directly or through links to external sites.
Work to date has focused on exploring approaches to creating and restoring natural habitats in ways that tackle the twin challenges of climate change and biodiversity loss. Grants were awarded in February 2023 to enable six sites to undertake this work alongside Wakehurst's wild botanic garden. The grant recipients are Plymouth City Council, National Trust at Exmoor, Groundwork North East and Cumbria, Freshwater Habitats Trust, Derbyshire Wildlife Trust and Gloucester Wildlife Trust.
The Programme aims to fill gaps in our understanding of carbon sequestration in the environment within different habitats, over time, at various scales, including above and below ground.
 The Programme is also exploring how to integrate private finance and blended funding approaches, emerging carbon markets, and other mechanisms to support nature-based solutions at a landscape scale in the long term.
 The Programme is contributing evidence toward key Government strategies including: Net Zero, the Environmental Improvement Plan, the Green Finance Strategy, Environmental Land Management schemes (especially Landscape Recovery), Land Use Framework, England Trees Action Plan, Peat Action Plan and the 25 Year Environment Plan.​  
Reports published to date include:
Governance of Blended Finance
The Aggregation of Ecosystem Services Suppliers