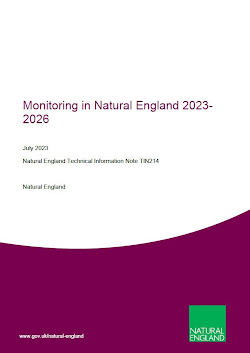 Natural England's purpose is to help conserve, enhance and manage the natural environment for the benefit of present and future generations. Monitoring is fundamental to us achieving that purpose – to enable us to track the change that our work (and those of our partners) is having on the state of the natural environment, as well as understanding its value as a natural capital asset.
This strategic plan sets out how we will improve Natural England's monitoring between 2023 and 2026 in terms of how effectively our monitoring provides evidence for nature's recovery and how efficiently we do it. It was developed through a series of staff workshops, with further input from our Science, Analysis and Evidence Group and the Natural England Science Advisory Committee.
It describes a vision that we wish our monitoring programme to achieve, and the high-level priorities and principles that we will use to monitor the natural environment on land, in our freshwaters and at sea, including the engagement of people with nature over the next three years. It contributes to delivering our Science, Evidence and Evaluation Strategy and meeting our Evidence Standard. It will be implemented with a programme of activity under each of the six principles to deliver this strategy and improve our monitoring programme. We will implement these across Natural England and work with partners where we have common interests and objectives.