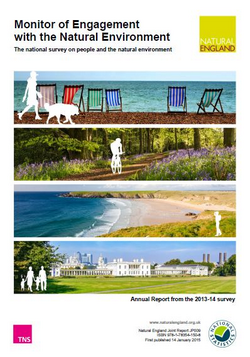 This report represents the findings for the fifth year of MENE field work from March 2013 to February 2014. In addition to providing descriptive statistics on people's use and enjoyment of the outdoors, new analysis of the survey findings was undertaken to look deeper at several key topics such as health and wellbeing, expenditure and the gap between valuing the natural environment and taking action to conserve it.
The UK National Statistics Authority has designated these statistics as National Statistics, in accordance with the Statistics and Registration Act 2007 and signifying compliance with the Code of Practice for Official Statistics.
Please note that a minor revision was made to the Annual Report on the 20 January 2015. The statement "visits involving expenditure were more likely to be taken to a town/city location and to a lesser extent, seaside or coastal areas" was removed from the executive summary, and the key findings section of chapter seven. This was erroneous text that should have been deleted prior to publication.