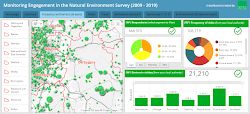 The Monitor of Engagement with the Natural Environment (MENE) survey is one of the largest of its kind, and has been collecting data on people's engagement with the natural environment for the last 10 years, culminating in almost 500,000 respondents.
The main focus of the survey is people's experiences of nature recorded through the visit's they made, and collects detailed information on visit frequency, motivations and barriers to visiting and activities undertaken, among other questions.
The survey also collects information on other ways people engage with natural environment, including environmental attitudes, impacts on health and wellbeing and pro-environmental activities.
MENE is designated as an national statistic and all data is made available under the Open Government License.
For further information please contact mene@naturalengland.org.uk.
Accessing the data
Survey data and associated reports are available through a number of options:
Datasets: The raw data collected from all components of the survey, at both National and Local Authority level, can be accessed using the links at the bottom of the page. The datasets are recommended for users who understand how to weight the data and are looking for specific analysis.
Note: Visit dates for years 6 and 10 were updated in the visit dataset in December 2020 See Technical Report for further information.
Dashboard: An interactive dashboard allows users to access weighted results from aspects of the survey at an Upper Tier Local Authority level. Recommended for users who want pre-calculated stats, figures and visuals.
Reports: A variety of reports have been created highlighting key findings from the survey:
Interactive story map: Key results and stories presented visually from all 10 years of the survey.
Headline reports: Detailed statistical findings from each individual year of the survey accompanied by Excel data tables.
Children & Young People's report: Detailed statistical findings from each individual year of the survey accompanied by Excel data tables.
Guidance:
Technical report: Details survey scope, methodology, questionnaire changes, known issues and details on how weights were calculated. This report can be accessed below.
Weighting guidance: Provides advice and guidance for users who want to weight their own data. This guidance can be accessed below.
Key usage notes:
1) When using weighted data (which provides a representation of the entire English population), all results should be read as thousands e.g. 1,234 people should be read as 1,234,000 people.
2) Like any survey, MENE is subject to sampling error – expressed as a percentage either side of any survey estimate. The larger this error, the less confidence there is in the result in question. Due to its complex survey design, it is also subject to greater error than simple random survey (see chapter 4 in the Technical Report). As such, the strength of weighted results depends on the original sample size.
3) Provided are indications of error for various sample sizes at the 95% level of confidence (out of every 100 samples, on average 95 of them will contain the sample result plus or minus the error). These relate to weighted data where the national sample is used. In other cases, the margin of error will be greater. Natural England advises caution on the use of any results which are based on a sample size of less than 2,000.
100: +/- 14%
200: +/- 10%
500: +/- 6%
1000: +/- 4%
2000: +/- 3%