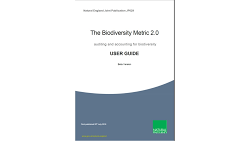 THIS IS THE ARCHIVE SITE FOR BIODIVERSITY METRICS
This page contains the calculation tools, guidance and other documents related to the earlier versions of the biodiversity metric published by Natural England, including metric 2.0, 3.0, 3.1 and 4.0. This includes small sites metric versions where relevant.
The documents and guidance hosted here are now superseded. Do not use these to inform methodology of any assessment using a current version of the biodiversity metric
For information about the current version of the biodiversity metric see here
The biodiversity units values generated by these metrics can differ from each other and may differ from any current version of the biodiversity metric. You may need to continue to use a previous version, unless required elsewhere.

---
For any technical questions about these earlier versions of the metric please contact our mailbox at biodiversitymetric@naturalengland.org.uk specifying which metric version your query relates to.