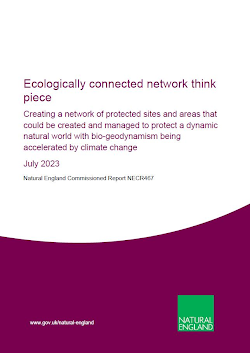 The aim of the study is to explore the merits and challenges of developing an ECN of protected sites and areas across England, which will anticipate and respond to changes within the natural system, specifically as these are accelerated by climate change. Protected areas in England play a critical role in climate change adaptation.
Identifying areas of importance for biodiversity and ecosystem services by reviewing the current information held on terrestrial, freshwater and marine habitats and species populations in a centralised location along with the ecosystem services these deliver and existing threats and opportunities is critical. The information would then be used to develop a national model identifying the location of significant barriers to connecting protected areas. The ECN would therefore be formed of protected areas (core areas), connectivity corridors that identify opportunities for habitat restoration and creation (buffers), and stepping-stones.
Delivering objectives for biodiversity and ecosystem services requires collaboration across multiple and varied stakeholders. Recommendations for how this could be achieved is explored in the report and can be summarised as:
• Encouraging land managers to commit to memoranda of understanding or equivalent governance agreements with regards to biodiversity and ecosystem services objectives and delivery within the ECN.
• Requiring landowners and land managers to undertake baseline assessments following DEFRA biodiversity net gain metric as part of funding applications.
• Provision of workshops for stakeholders on opportunities for biodiversity and delivery of ecosystem services within connected landscapes
• Development and provision of online tools to support land managers in the decision-making processes with regards to land management and activities.