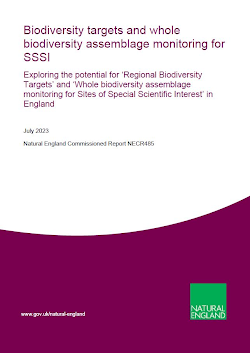 As climate change continues to impact on biodiversity around the world, the distribution and abundance of species and habitats is changing. In this changing situation it is necessary to effectively target resources available for the conservation and recovery of species, habitats, and wider ecosystems. It is important to anticipate likely changes in distribution resulting from climate change and to respond by both establishing effective conservation action within existing protected areas, as well as by creating new areas where species and habitats may occur in future.
This short report explores how to develop an approach to create regional biodiversity targets, and how to develop monitoring of the whole biodiversity assemblage on protected areas.
In particular, we set out the following recommendations: a review of the key interest features held in protected areas across pilot areas could be undertaken; deciding on the scale of assessment will be key for delivery at the regional scale, hence addressing issues at the landscape scale, site level or smaller, will influence how the work is undertaken. Essentially analysing the predictive models for a range of priority species and habitats and then layering these distributions will, progressively, reveal key areas for future protected areas or at least for focussed management effort.
The predicted range shift of Dartford Warbler Sylvia undata and the distribution of its heathland habitat, is used as an example in this report to demonstrate an approach that could be used.