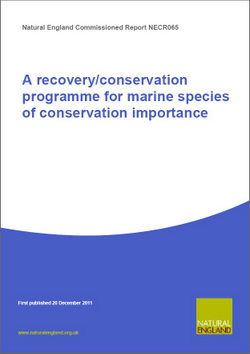 Natural England commissioned this project to provide an auditable, transparent methodology for prioritising marine species recovery programmes in the UK waters around England.
The aim of the work is to identify the conservation needs of all marine Biodiversity Action Plan (BAP), OSPAR and WCA species in English waters, that are not considered to be afforded sufficient protection by the forthcoming Marine Protected Areas network.
The results will be used by Natural England to improve our understanding the marine species that are most in need of targeted conservation action.
The report focuses on designing a prioritisation methodology that will be used to inform evidence based and transparent decision making regarding species recovery in the marine environment and where possible, suggests Specific, Measurable, Achievable, Realistic and Time bound recovery plans that should result in the relevant species becoming self-sustaining members of their ecosystems.