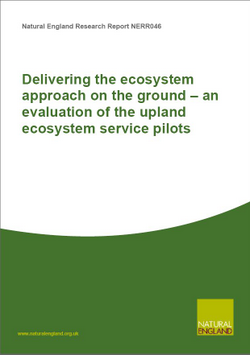 This report describes the experiences from Natural England's three upland pilot projects, of implementing the ecosystem approach on the ground. Despite the increasing interest in the ecosystem approach in policy and in academic literature, there are relatively few examples of it being used in the development and design of delivery projects.
This report is a record of the experiences gained from implementing the first phase of Natural England's three upland ecosystem services pilot projects (Bassenthwaite, South Pennines and South West Uplands), from summer 2009 to March 2011. The project aims are to:
To provide practical examples demonstrating how the ecosystem approach can be applied on the ground.
To use an ecosystem approach to define land and water management based upon consultation with stakeholders and their perceptions of the best options.
To demonstrate that investment in the natural environment can result in multiple benefits (carbon, water, food, biodiversity, recreational and landscape benefits).
To work in partnership to deliver a range of ecosystem services in a cost effective way and link these services to the beneficiaries.
Despite the growing body of research into the ecological, economic and, to a much lesser extent, social aspects of the ecosystem approach, there are few practical examples and case studies of areas of land and water being managed using the ecosystem approach.