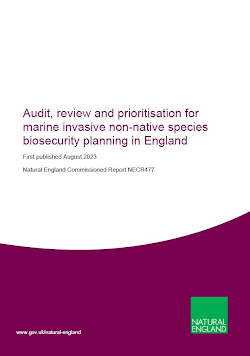 Invasive non-native species (INNS) pose major threats to native biodiversity, human health and ecosystem services. Following introduction and establishment, INNS are extremely difficult to control, especially in the marine environment, therefore prevention is crucial. Natural England has a responsibility to understand and reduce the risk of INNS to the condition of marine habitats and species, providing advice on best practice management such as biosecurity planning.
Our long term goal is to work with key partners to enable effective and up to date biosecurity plans at priority locations across England. The exact extent of geographic coverage, status and effectiveness of existing plans was not fully understood. This report was commissioned to carry out an audit of existing marine biosecurity plans in England, review their effectiveness and identify a priority list for future work.
A comprehensive review was carried out including interviews with a range of key stakeholders. The results show a patchy distribution of plans across England with several common messages emerging. Recommendations include improving national coordination, guidance and technical support as well developing further plans where gaps were identified in priority locations. We will now be engaging with national and local partners to develop a programme of work to take forward these recommendations.
The views in this report are those of the authors and do not necessarily represent those of Natural England.