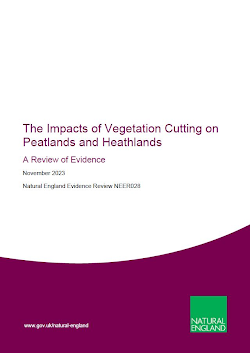 Cutting vegetation on heathlands and peatlands as a land management practice is increasingly becoming a common management intervention on upland sites, as a replacement to prescribed burning of vegetation. Many of the sites subject to cutting have nature conservation designations conferred under domestic legislation.
Although the practice of cutting vegetation is becoming more widespread, little is known about the effects upon ecosystem services, including biodiversity. This rapid evidence review found there are relatively few relevant research studies and most such studies did not utilise unmanaged controls. Time since cut appeared to influence species richness, diversity and cover of vegetation.
In lowland situations, interventions including cutting showed a high graminoid to ericoid ratio compared to areas with no management. In uplands, new cutting of vegetation on peatlands resulted in higher pore water dissolved organic carbon compared to controls. On the same peatland sites, cutting was associated with shallower water tables in the initial few years following interventions compared to under burning.
Although there are limited studies, cutting appears to have limited impact on ecosystem respiration or net ecosystem exchange. Based upon one study, cutting appears to have an effect upon surface microtopography and soil compression on peatland. No relevant studies were available on the impacts of cutting on wildfire risk. These findings will be used to shape further research on the subject of cutting semi-natural heathland and peatland vegetation.